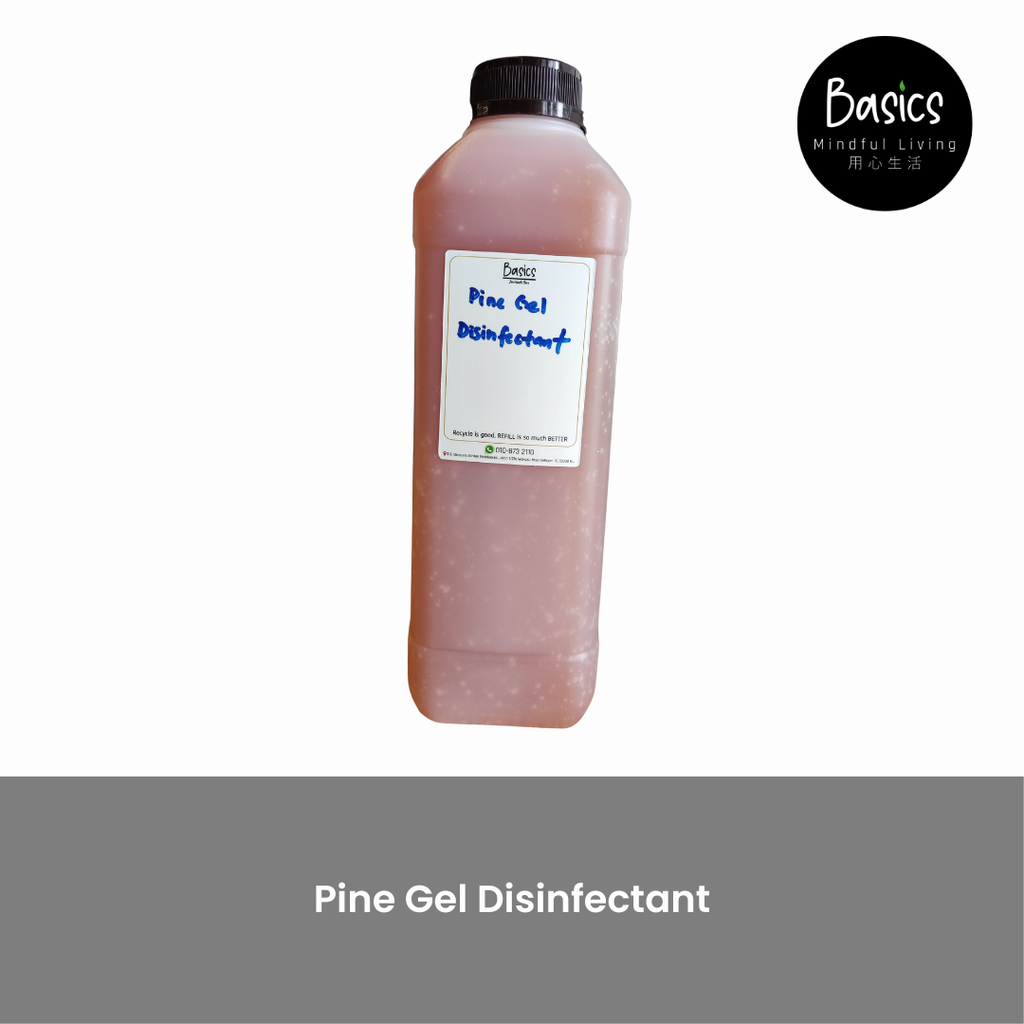 Pine Gel Disinfectant
Refill in store
We encourage you to bring your own bottle if you have

Please ensure your own bottle is clean and dry to enjoy the best quality of our products.

No minimum amount
Delivery within Klang Valley
Products will be packed in reused milk bottle packaging in quantity as per order

These products are designed to be kept and refilled by you

Empty Basics bottle can be returned to us on your next purchase delivery

Please wash, rinse and dry the bottles

Basics reserve the right to reject the bottles without any prior notice

Only Basics bottles are returnable to us
Click here to know what kind of impact that you will make through The Refill Program for each purchase that you made from us.
Product description
Function: This product is a gift from the nature! It contains a high concentration of surfactants and pine oil as the natural disinfectant and therefore is completely water-soluble. This product can be described as a mild disinfectant but is a natural disinfectant made possible by the high concentration of pine oil. It is therefore totally environmentally friendly and is ideal for use in our modern world.
Scent: Lemongrass
Colour: As per photo
Ingredients: Purified water, Sea-Ion Mineral, Plant Derived Extract, Polysorbate 20, Essential Oil (Lemongrass, Citronella, Peppermint and Tea Tree Oil).
Usage Instruction
Use concentrated or diluted as required.

For regular mopping: mix 1 part of Pine Disinfectant Gel to 30 parts of water. No rinsing required.

For Cleaning and washing: use neat, brush/wipe and rinse thoroughly.

Not advisable to be used on human/animals as this product were made to clean surfaces in our house where surface disinfecting is required.
Suitable to be used in/on:
Nursery/kindergartens/old folks home

Dogs pound

Pet stores

Toilet/washrooms/lavatories/bathrooms

Kitchens floor

Dustbin sanitation
Product benefits
Soluble in hot or cold water

Will not dull floors or paint work

Deodorizes, sanitizes and cleans at the same time

Free rinsing

Not irritating to the skin

Because its in Gel form, it cuts down on wastage

Biodegradable
Product Care & Caution:
Avoid contact with eyes and skin.

Store in cool, dry, dim place.
---